Jan. 25, 2017
Company news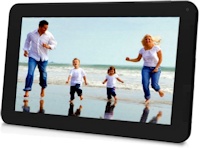 Easy-to-use ViewClix Smart Frame is Now Available

Portland, Oregon, January 25, 2017: ViewClix LLC (www.viewclix.com) today announced availability of the ViewClix Smart Frame, the first video plus picture frame that's designed specifically to help seniors and families stay connected.
The rapidly changing world of online communication is leaving many of our elderly isolated from family activities. Rob Ranck, founding director of ViewClix LLC, was already profoundly aware of the growing gap between technology and the older generation – but with the decline in his parents' health, the need to provide a simple, yet effective means of communication moved from a passing interest to an absolute passion.
Many years of experience at companies such as Intel and AT&T provided Rob with the technical and business knowledge to create something truly unique. Combined with insight from his wife Catherine's career in directing senior care, the ViewClix Smart Frame was born.
Simplicity by Design
ViewClix is designed to remove the primary challenges in online visual communication with the elderly. The simple, intuitive system allows seniors to easily receive incoming video calls. When not on a video call, the HD screen displays a slideshow of photos that family members easily share using their Apple or Android smart phones, tablets or PC's. The slideshow is curated by family members and provides a personalized viewing experience for the senior.
The ingenuity of ViewClix lies with elegant simplicity for both seniors and family members. This is achieved behind the scenes using a powerful back-end, ViewClix cloud infrastructure. The scalable ViewClix cloud provides real-time signalling, image processing, and multimedia data storage. Secure access by family members is authenticated using a "Share List" that is unique for each ViewClix Smart Frame. Hiding this complexity from the seniors and family members is how the ViewClix system makes sharing a photo or making a video call incredibly easy and safe.
Pricing and Availability
The ViewClix Smart Frame is available now at www.viewclix.com. The 15.6 inch model is priced at $299. For locations that lack Wi-Fi, a broadband mobile data connection is available for an additional $20 per month.
About ViewClix
ViewClix is set to revolutionize communications with solutions designed to close the technology generation gap and bring families closer together. The company is based in Portland, Oregon; for more information, see www.viewclix.com.
Contact
Christine Blanche
pr@viewclix.com
503-567-6755