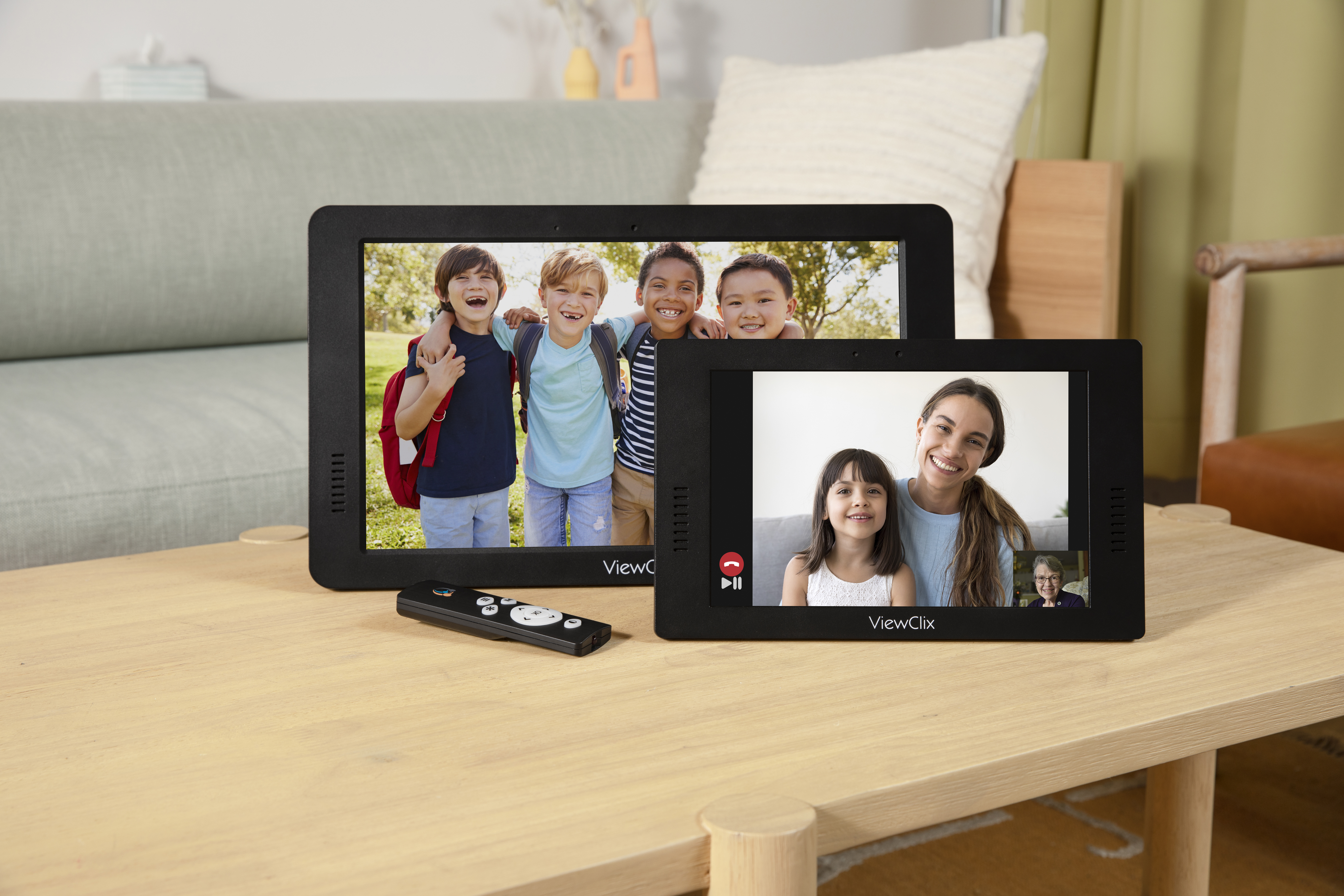 Video calls provide many an easy way to stay connected to their loved ones far away. It has also been proven that loneliness is greatly reduced with video calls rather than a normal phone call. The ViewClix system has been designed to make senior video calls simple and to help seniors stay connected with their family.
With ViewClix, there is no training or technical know-how to enjoy video calls. Video calls can be set to auto-answer for the senior and this provides a hands-free experience for your loved ones.
How does the auto-answer work:
The default mode for ViewClix video calls is auto-answer, meaning that there is no interaction required from the senior for a video call to start. Family and friends will initiate the video call to the ViewClix frame, the frame will ring to announce the video call, and then the video call will automatically start. You'll then be able to see and talk with your senior, similar to other video calling services. Once the video call is complete, the caller will hang up the call and the frame will automatically hang up for your senior.
Why is this important for seniors?
With ViewClix's innovative hands-free design, this brings technology to all seniors, no matter their mental or physical abilities. Seniors living with Alzheimer's disease, dementia, Parkinson's Disease and more can now receive video calls. Reducing loneliness will also improve your senior's life and can help with cognitive decline.
What about privacy?
ViewClix is focused on family privacy. Only users who have been added to the frame's Share List will be able to video call and share with the ViewClix frame. Video calls are also encrypted end-to-end and never recorded. Families can also set automatic Sleep Times for the frame, during a scheduled Sleep Time, the frame's screen will turn off and the frame will be unavailable for video calls. Included with the ViewClix frame is the remote control which can be used locally at the frame to put the frame to Sleep.
Will this work for my senior and family?
Yes! Since 2017 ViewClix has facilitated over 5 million video calls between families and the senior loved ones. Read customer reviews here: https://viewclix.com/reviews/
Order your ViewClix Smart Frame today and experience the magic of ViewClix's auto-answer feature first hand: https://viewclix.com/shop/