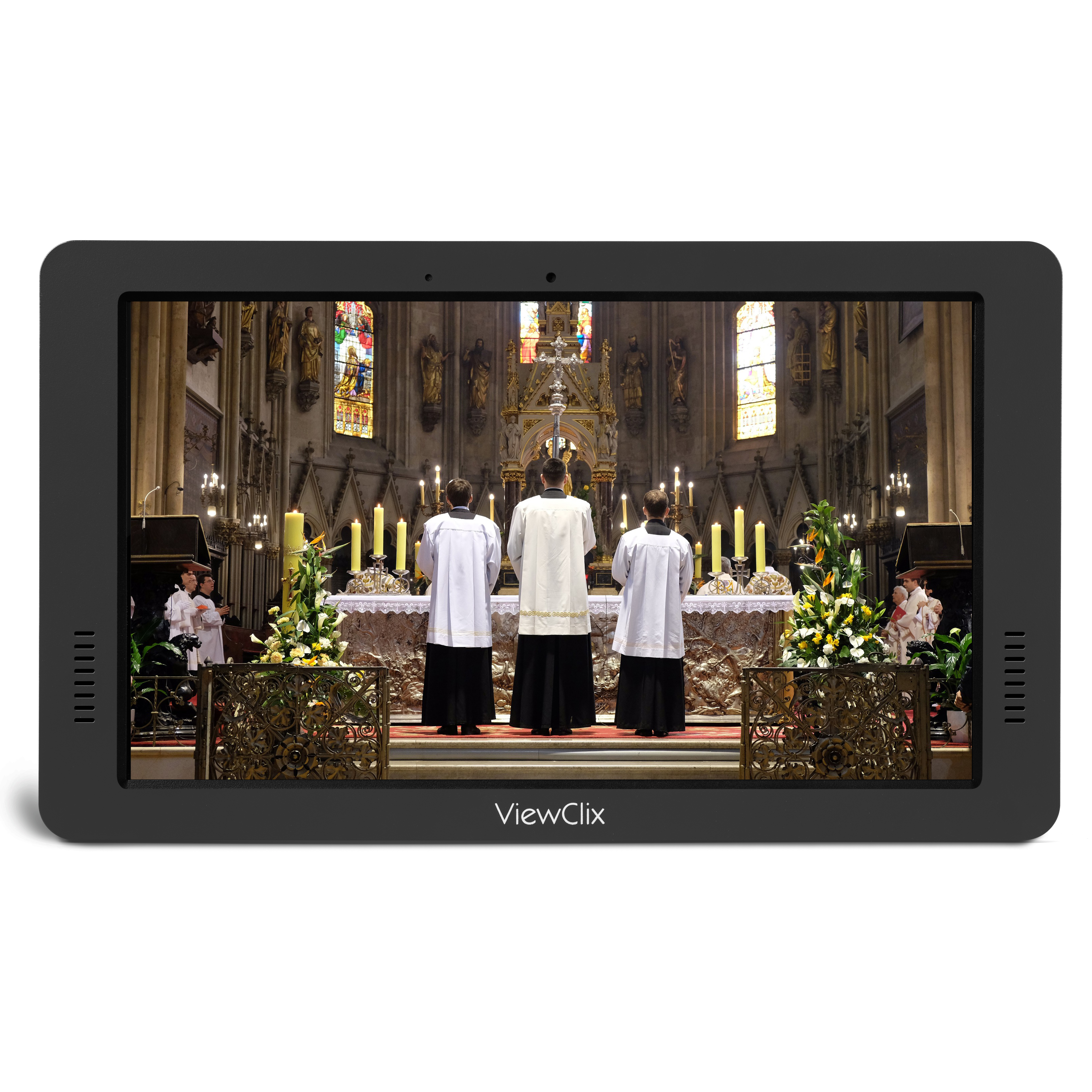 ViewClix expands its platform to allow seniors to easily watch live video church services.
With its focus on delivering solutions that do not require seniors to learn complex technology, ViewClix today announced its new "Church TV" feature. The new feature allows family members to remotely schedule live video services that will automatically play on a ViewClix Smart Frame.
The Church TV feature builds off of this year's release of the ViewClix next-generation E-series frames by integrating StreamingChurch.tv's live video services. StreamingChurch.tv is a leader in providing live video services for places of worship. All services available through StreamingChurch.tv will be available to ViewClix users to play on their loved one's Smart Frame.
The importance of religion for the aging community.
Studies indicate that with age, the importance of religion grows. However, an elderly individual's mobility may decrease due to physical or mental ailments, and attending worship services can become difficult. ViewClix's Church TV feature helps solve this problem and seniors can now attend their worship service from the comfort of their home. Attending services can also increase wellbeing and peace of mind, providing seniors with a link to their faith community.
What makes ViewClix so easy?
A family member or friend manages the ViewClix frame for the senior. There is no training required for the senior and families can manage the frame from anywhere using a computer or smart phone.
ViewClix strengthens family communication with seniors with shared photos and videos. The platform also delivers the easiest video calling and group calling experience.
With ViewClix's integration of StreamChurch.tv, families will schedule worship services for their loved ones for days and times during the week. When it is time for the service to begin, the ViewClix frame will notify the senior the service is starting with a sound and pop-up message. The service will then begin for the senior automatically, providing a hands-free experience for the senior. When the service ends, the ViewClix frame will automatically return to the default Slideshow of photos that are displayed on the frame's screen.

"Providing seniors an easy way to stay connected to their faith and community is the next step in our mission to help improve the quality of life for the aging population. We are thrilled to integrate with StreamingChurch.tv and to make their vast network of worship streams available to our users," said co-founder Dennis Ranck.

Church TV is available to users today with an E-series frame and an active Premier Membership.

ViewClix Smart Frames are available now https://viewclix.com/shop

If your church is interested in live video streaming services, visit this link for more information: StreamingChurch.tv/viewclix

Watch the below video to see how the Church TV feature works!