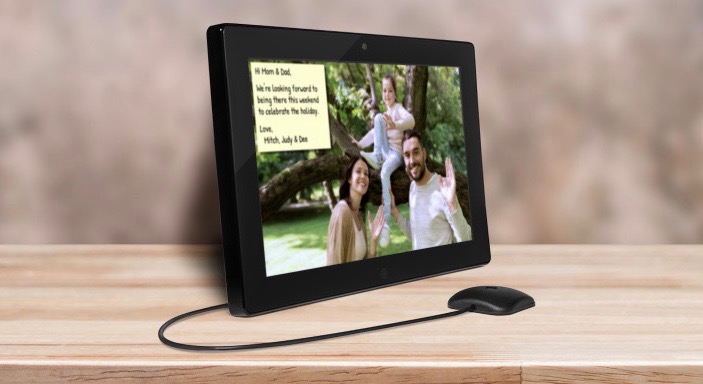 Oct. 29, 2018
Company news
Portland, Oregon, October 30, 2018: ViewClix LLC today announced the ViewClix Mini, the newest member in its family of smart display frames.
After successfully launching the larger ViewClix 15 Smart Frame in early 2017, the ViewClix team decided that it needed to make ViewClix even more affordable for families. The ViewClix Mini delivers the same ViewClix features with easy photo sharing and video calling with reduced size and a lower price.
Simplicity by Design
With the ViewClix Mini, ViewClix continues to be the easiest solution for families to stay in touch with elderly relatives. ViewClix is uniquely designed to remove the primary challenges in online visual communication for seniors and the simple, intuitive system easily receives incoming video calls. When not on a video call, the HD screen displays a slideshow of photos that is curated by family members and provides a personalized viewing experience for the senior. Family members easily share photos using their Apple or Android smart phones, tablets or PC's. The ViewClix frames' settings are remotely managed by the family so that the senior watching the frame isn't bothered with complicated account logins or learning new technology. In addition to video calling and photoicture sharing, ViewClix now includes a special "Sticky Notes" feature to schedule pop-up reminders or send personalized digital "post cards". ViewClix sticky notes are great for "reminding Mom that we'll be there for lunch tomorrow" or "sending Grandpa some of the grandkid's art".
Getting the whole family involved
Video Calling, photoicture sharing, and sticky notes are accessed using the free ViewClix App (Apple and Google Play Stores) or using a desktop computer. There are no limits to the number of family members that can be authorized to connect with a ViewClix frame. Also, authorized family members can share pictures and communicate with multiple ViewClix Smart Frames.
Pricing and Availability
The ViewClix Mini is available now at www.viewclix.com. With its 10.1 inch display, the ViewClix Mini is priced at $219.
About ViewClix
Founded in 2016, the ViewClix mission is to revolutionize communications between families and their elderly loved ones. The company is based in Tigard, Oregon; for more information see www.viewclix.com.
Contact
Dennis Ranck
pr@viewclix.com
503-521-1056